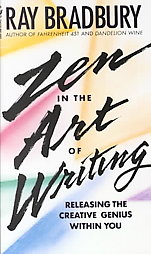 I am reading a book of essays by Ray Bradbury entitled
Zen in the Art of Writing
. I stumbled across it at the library. In the past, I read
Fahrenheit 451
like most but didn't find it all that exciting. Instead, I have had a love affair for years with
The Martian Chronicles.
This book of essays on our beautiful craft is already inspiring me beyond belief, and I only just started. Here are some fabulous quotes I came across so far:
"First and foremost, [writing] reminds us that we are alive and that it is a gift and a privilege, not a right. We must earn life once it has been awarded us. Life asks for rewards back because it has favored us with animation.

So while our art cannot, as we wish it could, save us from wars, privation, envy, greed, old age, or death, it can revitalize us amidst it all.

Secondly, writing is survival. Any art, any good work, of course, is that.

Not to write, for many of us, is to die."


"You must stay drunk on writing so reality cannot destroy you."

I can't put it down; it has gripped me like non-fiction rarely does. Alternately, I also feel inspired to throw the book down and run and write every few minutes, which is exactly what such a book should make me feel.